What I learned from hundreds of people who wanted to stick a pin in a map.
Customers routinely ask how best to use colors, or do the maps come printed with an ideal predetermined maptack color key?  I always say take enough time to devise your own scheme.  I urge them to go beyond the obvious idea of one color for places visited, another for places desired to visit, perhaps by assigning colors to family members, friends, ancestors, purpose of trips, life stages.  Try to think up something I did not mention.  The meaning you eventually extract from the map depends on the meanings you put in.
In a lifetime of selling pinboard maps, tacks and dispensing free advice, I never actually managed a major project like the one in the previous post. Fortunately, this newly won experience confirms that the advice I gave was sound enough, but now I have more to give.
Usually, when you see multicolored tacks in a map recording visitors to an inn, shop or tourist attraction, the colors represent nothing more than the favorite color of each who inserted it.  Fun enough, but a missed opportunity to accomplish more.
We set up a World, a USA, a New England - New York regional map, a supply of maptacks in several colors and hoped to take cues how best to allocate the colors upon engagement with the visitors.  As soon as the sign "Come pin where you are from" went up, they came to pin.
We asked the first few participants "Is this your first visit to Waterfire?" and it was.  We gave them white tacks.  Some wanted to choose their favorite color but everyone accepted the need for rules.  Gold tacks were on the table.  When a gold tack was requested we offered it in exchange for a larger donation but quickly decided that was not in the proper spirit. All were welcome to participate regardless of donation and the donation jar did fine.
Soon some folks said it was their second or third visit so we gave them red tacks.  Then we had folks who had returned enough times to have lost count.  We gave them "true blue" tacks.  For the fellow who exclaimed he had been to every Waterfire (over 20 years worth) we broke out a new color, light blue.  We gave a few more light blue tacks to people who claimed to have attended most or nearly all Waterfire events.
It became evident that without a strict definition of "Where you are from," local college students tended to pin their home towns.  The first person who asked if we wanted them to pin "Where I live now" instead of "Where I am from" did not seem to be a student.  On the spot I decided to rule the tack goes where a letter could be mailed to you.  Those who said they grew up locally but now lived elsewhere were content to represent their current home.
Soon we had a visitor who would have been distraught if she could not insert the pin in her "Home where the heart is."  We reserved one more color, yellow, for those who spoke up wishing to denote a Sentimental or True home they no longer lived in.
Anonymized as each tack is, it was marvelous to watch how pleased participants were to consider the nuances and insert the right color in the right spot, making their story part of a larger story. 
About 500 people inserted a tack!  Most tacks represent a couple or an entire family.  Here is a key to the colors displayed on the 3 maps from May 26.
white - first time visitor to Waterfire
red - has visited more than once, or several times
blue - has visited many times
Light blue - has visited "most" or "all" Waterfires. Long time superfan.
Yellow represents people who expressed a wish to represent a former home they identify deeply with.  Because yellow was a late introduction, it can not be known which of the white, red and blue tacks represent current or memorialized homes.
Here are the pinned maps.  They could be reused because there is room for more tacks in all but a few places.  However it will be interesting to see if there are different patterns on different nights.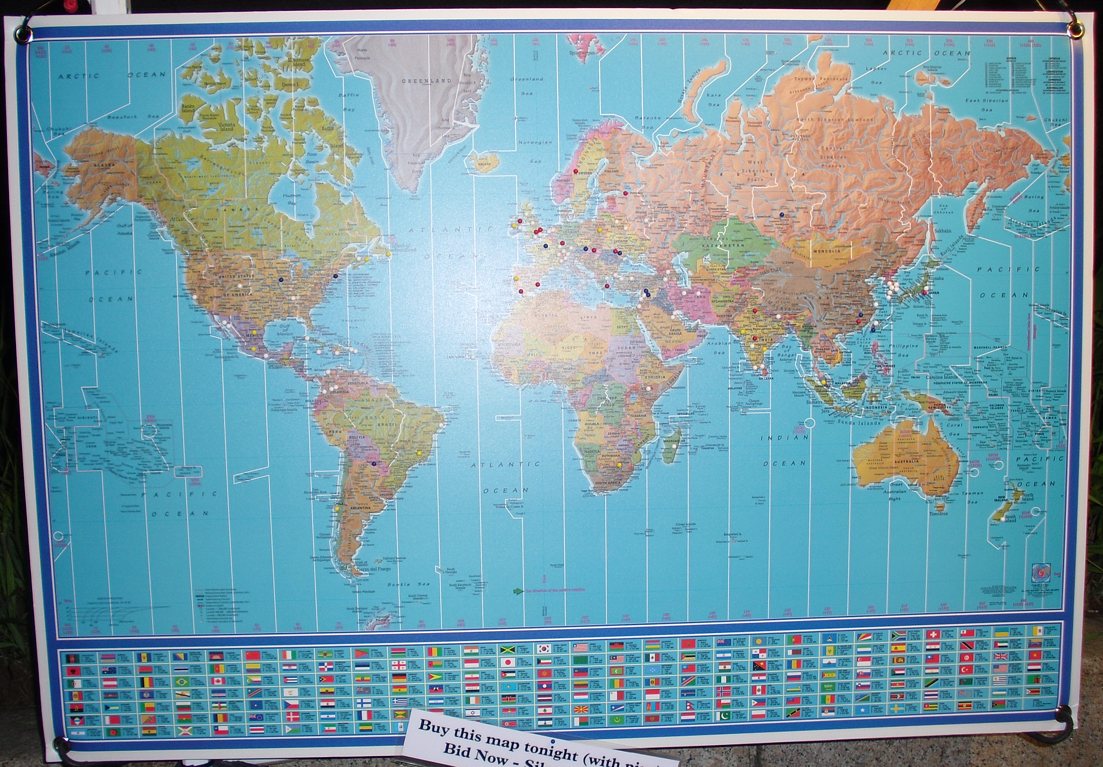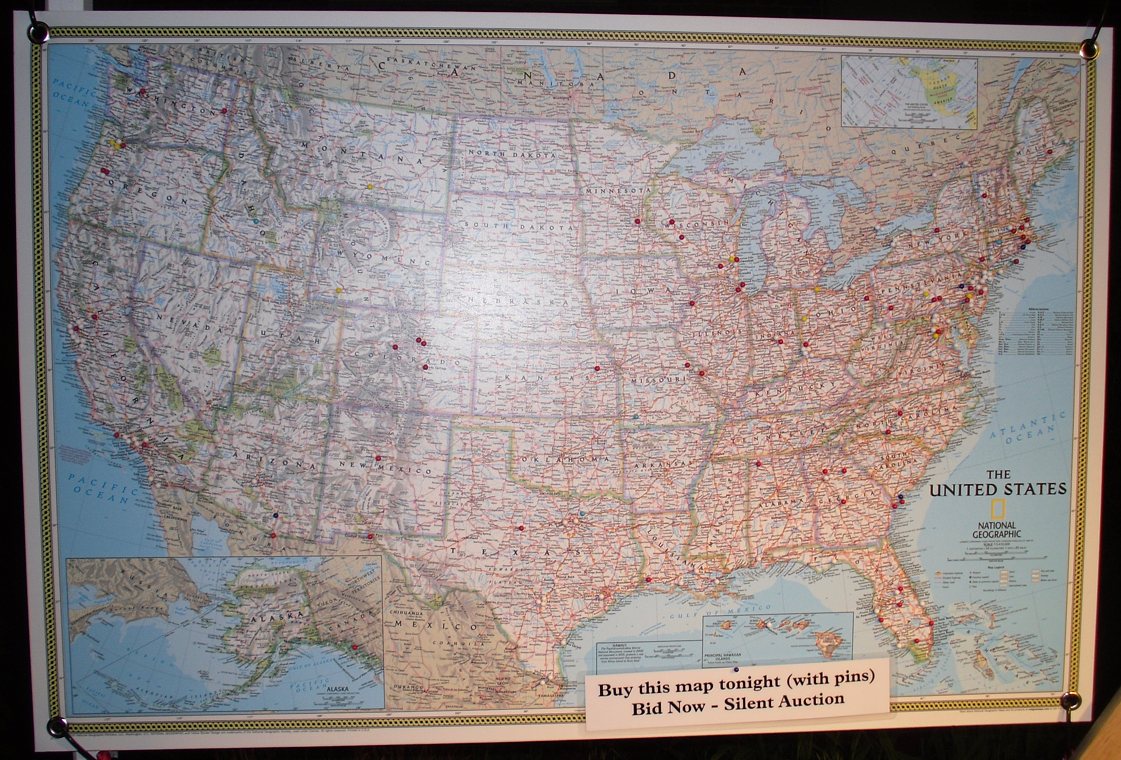 Next time we will use a Northeast USA map that includes the Middle Atlantic.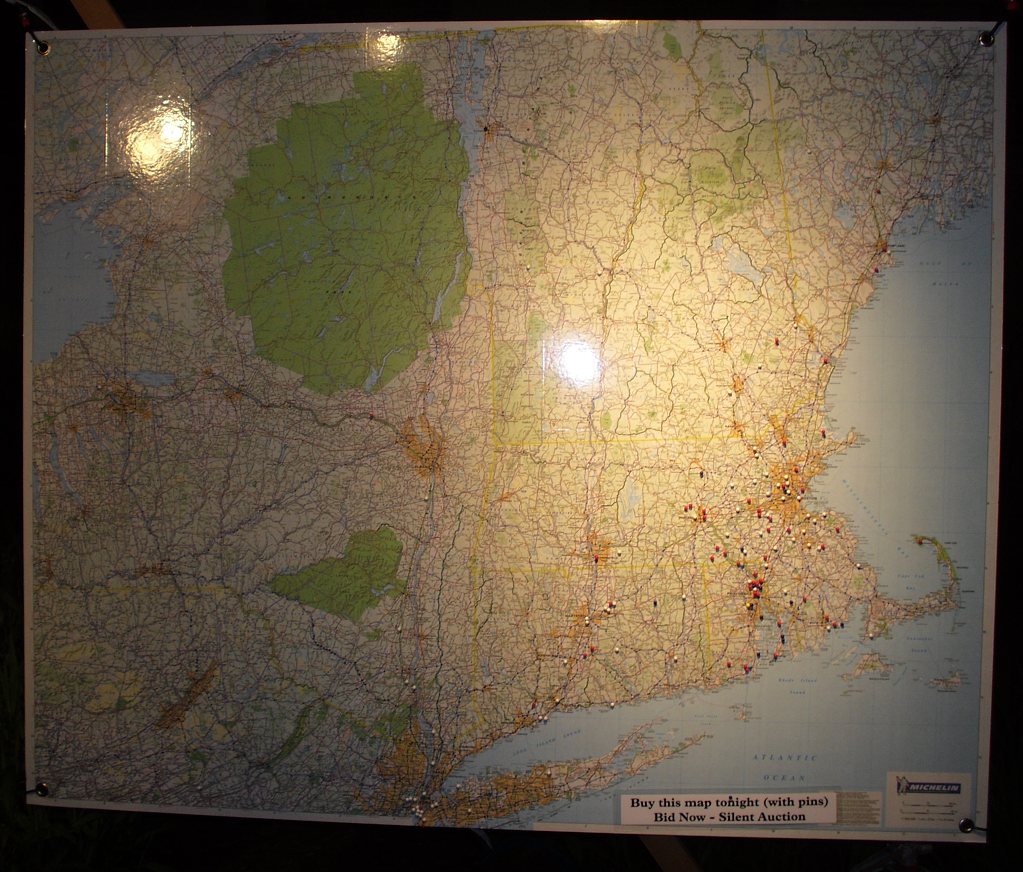 For next time, we will make a sign and follow this color scheme:
White - First time visitor, current home.
Gray - First time visitor, provisional local dweller such as student, pin in original home.
Red - More than one visit, current home.
Rose - More than one visit, provisional local dweller such as student, pin in original home.
Green - Many visits, current home.
Light Green - Many visits, provisional local dweller such as student, pin in original home.
Light Blue - Rhody Emigre: Grew up here, live elsewhere now, first waterfire, pin in current home.
Blue - Rhody Emigre: Grew up here, live elsewhere now, mulitple waterfires, pin in current home.
Orange - Superfan, attending nearly every waterfire for many years.
Those frustrated by the above categories, wishing to better signify their attachment to a true, where-the-heart-is home may insert an additional, appropriately colored pin in or next to their state or national flag.
I expect we will modify the color key each time we repeat this interactive exhibit .